Suppose you are running your warehouse distribution or manufacturing facility and you come across a business dilemma, you need more storage space. This is a common problem. Warehouse facilities come across this situation every day as their business grows. The first thing that may come to mind is that you need a larger facility. But moving is not the best or most economical solution to your in-plant space problems. You need a solution for finding extra space, which is both practical and professional, as well as appealing and pleasing to the eye. You need Mezzanines. Mezzanines are amazing and will help you expand both your storage space and develop a cleaner aesthetically pleasing work environment.
Mezzanines deliver an excellent alternative to remodelling that allows you to create usable space within your current facility so you can operate more efficiently and profitably. Mezzanine floors are often located between the ground floor and the floor above, often with a low ceiling, a platform enclosed by a wall on one side in the form of a balcony. Mezzanine floor systems are semi-permanent floor systems typically installed within buildings, built between two permanent original stories. Single Story & Multi-Level structures are available to suit your custom needs. Modular Buildings and Inplant Offices can be installed with your Mezzanine Floor System.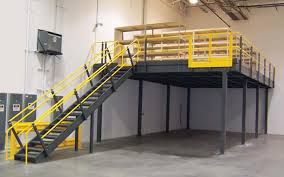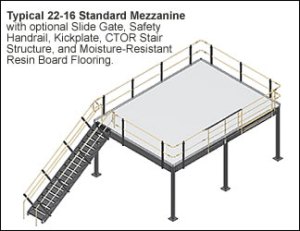 Mezzanines are frequently used in industrial operations such as warehousing, distribution or manufacturing. Facilities that have high ceilings, allowing unused space to be utilized. Since it is in the form of a balcony there is also room below for storage or implant offices and buildings. Making Mezzanine floors efficient and economical.
Mezzanine Industrial Work Platforms are Ideal for many other uses. Shipping/Receiving, Second Story Offices, Garment Rail, Health Clubs, Tool Cribs, Locker Rooms, Cat Walks, Access, Order Picking, Clean Rooms, Office Space, Sortation, Assembly Space, Packaging, Viewing, Dust Covers, Retail Back Rooms, Conveyor Support, Lunch Break Rooms, Recycling, Storage Decks, Equipment Platforms and Security Enclosures.
Quality work platforms meet stringent industry standards and specified national, state, and local codes and are specifically designed to meet your size, load and span requirements. Quality platforms ensure years of use and are of high value to your operation.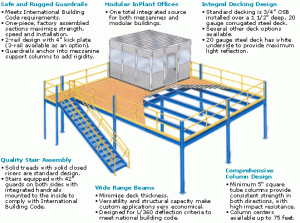 There are two types of Mezzanines, Standard Mezzanines, and Custom Mezzanines, manufactured and customized to your specific requirements. The benefit of Mezzanines is that they are designed for easy, fast assembly and made with specially engineered high strength, zinc plated steel bolts and components that quickly bolt together to form a strong and secure structure. Offering minimal interruption to your working floor area. Another advantage is that they are designed for Heavy Duty Use, making it the perfect solution for your facility.
There are many different options that can be added. To increase safety and achieve the operational efficiency you desire from your system. This is why it helps to have a professional oversee the design and installation of your mezzanine floor system.
Decking options include a roof deck and resin board and steel bar grating. A selection of stairs and custom handrails are available to meet specified code giving you options to customize your system. Ladders and Crossovers made for safe and convenient equipment crossover in both standard and custom designs and safety railings. Safety Ladders for service or emergency access with Custom ladder designs and Flooring options to add a skid-resistant surface or for making it stronger and more durable depending on what your operation requires.
And the final option is Paint Finishes with the Standard Colors of Grey and Safety Yellow or Additional Colors like Blue, Green, Tan and White. Offering safety and a pleasing work environment.
Warehouse Cubed offers design and installation of mezzanine floor systems. We begin with a site visit, partnering with you in determining what you need to meet your operating space requirements. We will measure to assure the correct size for your space. Warehouse Cubed will coordinate all aspects of the project, from designing, customizing and ordering, to installation and completion with a minimum of interruption to your business operations. Your operation will have Amazing Results with Mezzanines the best solution for Extra Space.

Warehouse Cubed partners with both Wildeck and Portafab. Wildeck is recognized as an industry leader and quality manufacturer of steel storage mezzanines, material lifts (VRC), and safety guardrail products. Portafab Modular Building Systems has been a leading manufacturer of modular building systems for over 30 years. Portafab offers an extensive line of modular wall systems, they are also a manufacturer of mezzanines. Call us today for more information about mezzanine and modular building office project. Our professionals are happy to help with your next project. Warehouse Cubed "Your Partner in Material Handling."