Pallet Rack Systems & Equipment Solutions
Warehouse Cubed Consulting Group partners with the best manufacturers in the country, Interlake Mecalux and Unarco to provide you with the highest quality products and services. Pallet rack is the most conventional way of utilizing the idle vertical space in a warehouse or distribution center for storage purposes. However, with numerous and diverse applications, variations, and possible configurations, planning out a pallet rack project for your facility can be an extremely daunting task. Warehouse Cubed will professionally evaluate your storage space or working environment and recommend a pallet rack system that is the best possible design for your application, tailored specifically to your needs.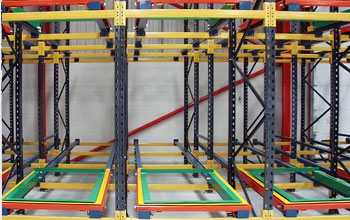 Pushback Rack Systems
Pushback systems are available in 2 – 6 deep and can increase existing storage space up to 65% by eliminating aisles previously needed in a selective rack environment. Pushback provides storage in applications that must have last in, first out storage (LIFO).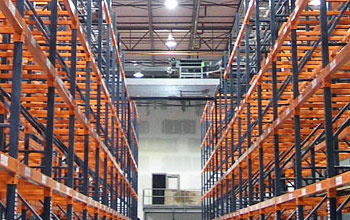 Roll-Formed
Roll-Formed racking is made from thin steel that is rolled into a squared tubular shape. This racking is less expensive because it requires less steel, but because the strength of these systems depends on them holding their shape, they are often considered to be less durable. Manufacturers are constantly trying to develop ways to strengthen roll-formed rack, primarily to make them less vulnerable to impact from forklifts.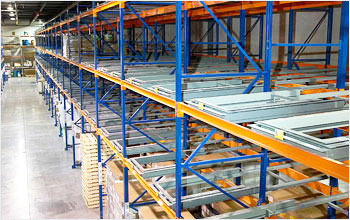 Floor Mount Pushback
Floor Mount Pushback anchors directly into the warehouse floor. This provides significant cost savings since beams are not required at this level. The floor mount also lowers the first level by 7″, allowing more product to be stored per bay.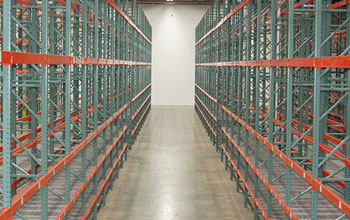 Selective Rack
Selective Rack is the most commonly used rack. It allows for the maximum number of SKU facings and is low cost. It offers the best solutions for warehouses with palletized products and a wide variety of goods. It has many advantages giving you direct access to each pallet, and simple stock management. Selective Pallet Rack can be configured for a variety of uses. Double Deep Selective Rack is one option which allows storage of 2 pallet positions from a single aisle. Double Deep Reach provides high density storage, increasing storage capacity at your facility.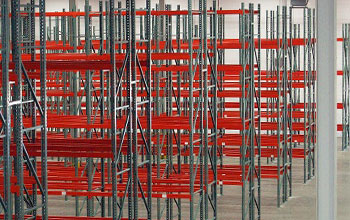 Narrow Aisle (NA) and Very Narrow Aisle (VNA)
Narrow Aisle Systems refer to rack systems with aisles of 6-9 ft. in width. These systems typically require reach trucks that have a smaller right angle stack, giving them the capability of turning in much tighter spaces. The Narrow Aisle system is most commonly used in medium to large sized warehouses. Very Narrow Aisle (pictured) Systems offer the greatest possible space utilization due to the small aisle requirements of the highly specialized lifts with articulating masts or side loaders that are used in these systems. These specialized lifts have the ability to turn the forks into the rack system without turning the truck itself. These types of specialized lifts are made for very specific applications.

Pallet Flow
Pallet Flow provides very high-density storage in applications that must have first in, first out storage (FIFO). With pallet flow, the pallets are loaded into the back end of the system and flow to the front end. On systems over 3 pallets deep, it allows more pallets to be stored and uses electro-mechanical or pneumatic speed-braking systems to slow the loads down and keep them contained in the pallet racking. These heavy-duty systems are designed for years of trouble-free operation. Inventory turnover is quick and efficient making it ideal for material with expiration dates.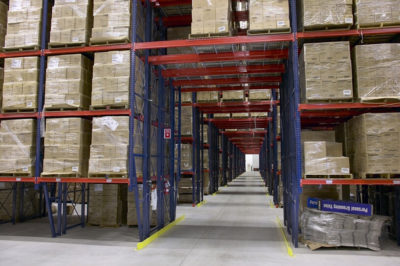 Structural Cant-Leg System
The Structural Cant-Leg Rack System is tough enough to take on lift trucks. It allows a wider travel aisle consequently escaping lift truck damage. Engineered in structural steel, it is 100% stronger than standard uprights. Structural Cant-Leg provides maximum safety. Rack maintenance costs are cut to a minimum. Total storage capacity is retained and it even makes order picking easier. For strength, safety and value… You should buy this Structural Cant-Leg. It's 100% stronger than normal uprights, Greater resistance to truck damage, allows more aisle clearance for lift truck maneuvering, and safer! There's nothing like it.
Structural Rack, Retrofit Systems, Cantilever Racks and High Bay Systems
Structural Rack is designed with high-strength structural steel and assures a much higher level of durability over time. This rack is very rigid, efficient and economical and is known for its strength, ductility, and resistance to abuse. Retrofit Systems will fit into most existing systems resulting in a significant increase in storage density, without the cost of replacing your existing system. Retrofit Systems are mounted on existing selective frames and beams. Convert your existing drive in or single deep selective rack to high density pushback storage, at a fraction of the cost. Cantilever Racks are Ideal for storing short, long or awkwardly-shaped items. High Bay Systems can exceed 60′ in height, nearly doubling the storage capacity of conventional systems. Racks are usually replenished with manually operated trucks or order pickers. The aisles are narrow to make best use of the floor space.